First owner: Carlo Mylle (B). He drove several rallies with the car, it was accidented in 2006. The car was not hurt so bad, only bodywork damage. Tim Van Parijs drove this car first after his accident in 2007 with a second place overall in Omloop van Vlaanderen. Carlo started again in 2008 to race with the car in several rallies and won the Belgian Championship in GT class in 2009. Also Marc Duez drove the car several times from 2008 to 2013 in the Belgian Championship. In 2014 the car was prepared to FIA-standard to start in the World Champion Rally Monte Carlo 2014 (FIA R-GT Technical Passport PTRGT-001). Since 27 years this Porsche was the first to participate in the legendary Monte-Carlo Rally. In 2015 the car also participated in Monte Carlo and Ypres in R-GT spec. All activities can be followed through its own Facebook-page (Porsche 996 GT3 RC 005 Marc Duez). The 005 Car is exclusive because it is the only 996 with a FIA agreement and two World Championship rallies on its palmares. There's a very good facebook page about this car. Search for 996 GT3 RC 005.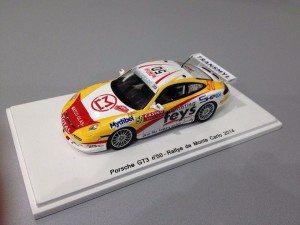 Accidents: 2006
VIN number: WPOZZZ99Z5S698095
Engine number: M96/7963524405
Current owner: Carlo Mylle (Belgium) car will not participate anymore in World Championship.